How to get a free licence/extra days for NineEye or Fishbot ?
-> 1. By making Profiles
We don't sell "Premium Profiles". Instead, we want to share all good and strong bot profiles with the community, for free.
To participate, your profile must meet these criterias :
– The profile doesn't already exists.
– Satisfy the following "naming rule": [EXPANSION] – [LVL BRACKET] – [ZONE] – [LOCATION TIP]
Example : [TBC] 60-62 Zangarmarsh Near Sporeggar
– Profile must contain a complete list of mobs that the user will encounter
– The profile must be long enough so that when the player returns to the first waypoint, mobs has respawned.
– Profile must avoid "complex path" such as climbing a mountain, passing in a tight building…
– Must contain a Ghost route.
– For Classic/TBCC : Vendor route is needed but not mandatory if it's not possible to find a vendor near the grind area.
For retail : Vendor route is optionnal.
– Profile info must contain the following text :
Available routes : 
Vendor NPC Name :
Pull radius suggested :
Quick Description on how to locate the profile / Specific info about the zone …
Reward : +4 days per validated profile
Validation process :
Send me a PM (Pixel) on Discord that contains : The Expansion/Lvl bracket/Location of your profile(s).
If i'm interested in one or more of your profiles, you'll send them to me, and give me your e-mail address.
Once they are verified, you'll receive your reward 🙂
2. -> By sharing your combat & Buff rotation :
We want to make the NineEye experience as smooth as possible with a lot of tutorials.
To do so, we want to share examples of combat rotation for every class/spec in the retail game and TBCC.
Wanna send yours ? Here's how to do it :
Send me a PM (Pixel) on Discord that contains :
A screenshot of your action bar, with the name of the spells used, and a burst/defensive spell or macro. For example :
RETAIL – WARRIOR ARMS



Pull spell : Charge / Spell 1 : Victory Rush / Spell 2 : Overpower / Spell 3 : Slam / Spell 4 : Mortal Strike / Spell 5 : Execute / Counterspell : Pummel / Buff : Battle Shout (Refresh every 1800 seconds) / Self-Heal spell : N/A
Burst/Def macro (CD 120 seconds) :
/cast Die by the Sword
/cast Ignore Pain
/cast Bladestorm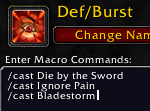 Reward : +4 Days per rotation
We need rotations for : Warrior – Mage – Hunter – Druid – DeathKnight – Warlock – Shaman – Rogue – Priest – Demon Hunter – Monk – Paladin – Demon Hunter
Retail & TBCC.
3. -> By writing a review on the product page.

Go on any product in the shop, and write what you think about the bot and give it a note !
To claim the reward, you have to post the review with the account you used to get your license.
– The reward is only claimable 1 time per product and user. (You can claim the reward 2 times, one for Fishbot and one for NineEye.)
– Trial licenses are not concerned by this reward.
– You must have used the bot 
Reward : +5 days once
How to claim ?
Send me a PM on Discord (Pixel) 🙂